Farmhouse decor is warm, cozy, and full of charm which is why flea market and thrift store finds are so appealing for this style.
Cottage style has a romantic appeal that focuses on comfort, relaxation and vintage touches while also using floral accents.
French country decor is rustic yet elegant with warm, subtle colors. Natural woods bring texture to this style.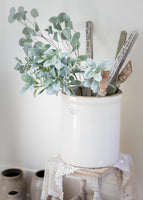 About Frog Hollow vintage decor
My name is Carolyn and I am a former Betty Crocker food photographer. I love vintage decor especially ironstone. My 20 years of experience as a professional photographer, and my creative eye for styling sets are the foundation to how I see decor. I love sourcing authentic, weathered and worn items, and then styling them into beautiful still lifes that bring a designer-worthy look to each room. Curating treasures can be a timely process. Trying to arrange them in your room can be well just that…trying. Let me help you in your journey to making your home a place you love to live.